Rainy day things to do in the region
On rainy days at Raystown Lake, visitors can still have buckets of fun with dry, lake-alternative activities that offer long-lasting memories and well-nourished bellies during downpours. In fact, as singer and songwriter Luke Bryan points out, "Rain is a Good Thing" in the Raystown Lake Region! There is plenty to do, eat and see in the area that'll keep visitors of all ages smilin' and "Singin' in the Rain."
Visitors can discover live music by local artists, peruse some of the country's oldest museums, be entertained at an operating vintage movie theater (that's also rumored to be haunted), shop affordable and unique shops, and explore millennia-old underground caverns - all within a short drive.
MUSEUMS
Mel Isett, local business owner and vintage collector, accumulated antiques and memorabilia most of his life with the dream of opening a museum. Some say it was his way of making the most out of rainy (and sunny) days. In 2001, the Isett Heritage Museum opened, amazing museum goers with a vast collection of over 40,000 treasures. Today, the museum also offers a gift shop where customers can buy genuine antiques!
Swigart Antique Automobile Museum
The Swigart Antique Automobile Museum holds the title of the United States' oldest antique automobile museum. The museum offers such an overflowing collection of history that their displays are swapped and rotated periodically. The collection is saturated with iconic pieces including Herbie the Love Bug from the "Herbie" movie series and a DeLorean for those who remember "Back to the Future."
Rockhill Trolley Museum
The Rockhill Trolley Museum is Pennsylvania's first operating trolley museum, also making it the oldest of its kind. Impressive historical trolleys dating back to the early 1900s can be discovered here as well as a museum gift store. Guests of the museum say a trolley ride during a rainy, overcast day should be added to every visitor's Raystown Lake Region "bucket list." Individuals seeking to make the most of their rainy days may be excited to learn that the Rockhill Trolley Museum is right next door to the famous East Broad Top Railroad!
The Juniata College Museum of Art helps keep rainy days warm and bright with a fine arts studio and exhibition center. Visitors seeking to absorb inspiration and foster a creative stream of mind tend to find what they are looking for while submerged in the arts on a rainy day.
(Honorable mention: Broad Top Coal Miner Historical Society & Museum)
ENTERTAINMENT
Home to the Raystown Reflections Gift Shoppe and a large exhibition room, the Raystown Lake Visitor Center is an ideal first stop when retreating from rain showers and storms at Seven Points Beach, Seven Points Marina or any other spot at the lake.
Lincoln Caverns & Whisper Rocks
Taking cover from the rain does not require a race to four walls and a roof; it can also include visiting a natural shelter! The underground guided tours at Lincoln Caverns & Whisper Rocks are known to chase away rainy day blues with immersion in awe-inspiring cave formations. Visitors' exploration can continue into the Raystown Rocks & Souvenir Gift Shop, which offers unique finds and merchandise.
Huntingdon Cinema: Clifton 5
Local, historic, family-friendly, affordable and rain-free, this downtown Huntingdon treasure currently debuts first-run movies on national release. A historic 1928 gem, Clifton 5 offers visitors the chance to set aside their rainy day worries with brand new films – and fun – in a one-of-a-kind theater setting.
East Broad Top Railroad
The country's oldest narrow gauge railroad, the East Broad Top Railroad is a National Historic Landmark that attracts visitors from all over the United States. Today, the EBT invites guests to escape the rain and engage in scenic train rides, guided tours, and vintage trolley rides. Not only does EBT offer the excitement of their attractions, but also the EBT gift shop offers quality railroad memorabilia, trinkets, collectibles and clothing. 
(Honorable mentions: Penn's Cave and Wildlife Park, Shaver's Creek Environmental Center, Huntingdon County Arts Center, Huntingdon Holiday Bowl, Huntingdon, Mount Union and Alexandria public libraries)
FOOD
Lil New York is a medite"RAIN"ean restaurant that serves tasteful Latin and Greek cuisine you can't find anywhere else in Huntingdon County! When individuals in the Raystown Lake Region's mouths water like rain showers, they will likely find that Lil New York's homemade recipes and dishes satisfy. Bonus: Lil New York shares a wall with Clifton 5 Movie Theater, making dinner and a movie a "pita" cake.
Boxer's Cafe is a college-student favorite, serving beer and pub food that have vegetarian and meat lovers sitting at the same table. Consistently, remarkable reviews come pouring in, highlighting Boxer's accommodating staff, diverse menu selections and excellent overall hospitality - rain or shine!
Three Twelve Kitchen and Cocktails
Raystown Lake visitors fleeing the rain and seeking a fine dining experience tend to stop by Three Twelve Kitchen and Cocktails in downtown Huntingdon. This restaurant is known for their local, seasonal food selections made in-house and suit any brunch, lunch or dinner group. Those who frequent this restaurant say the bar is showered with "artfully crafted cocktails, a curated wine list, and a fine selection of ice-cold beer."
Stone Town Tavern
Although the beautiful outdoor space may not be ideal in a downpour, the Stone Town Tavern is a commendable bar for visitors to check out. Guests caught in the rain can be warmed by the friendly and lively atmosphere in a bar-restaurant that hosts live music performances, comedy shows, pub food and adult beverages. Bonus: Stone Town is also co-located with the Pho Vietnam Restaurant.
(Honorable mentions: MacTown Pizza Plus, Donna's Family Restaurant, The Village Tavern Bar & Grill, Couch's Sub & Grocery, Muddy Run Tavern, Wildflower Cafe & Goodnight Moon, Sweethearts Confectionery, Woody's Bar-B-Q, Diner 22, Nick's Diner, Bluegills Bar & Grill, Moxmoe Pictures Famous Sandwiches, Checker's Grill, Spring Creek Diner, Bello's Cafe, Paesano's Italian Family Restaurant)
DRINK
Juniata Brewing Company is the first-ever brewery in Huntingdon County, pouring local brews and providing friendly service. At JBC, it is all about submerging in the taste, company and community atmosphere. The brewery floods bellies with happy hops and immaculate IPAs and warms hearts with live music and events.
Reklaimed Vines is a family-owned winery and vineyard that offers customers unique flavors of mead, dry, semi-sweet, sweet, spicy and dessert wines that wet whistles. Customers love trying samples and flights of the tasteful drops of locally-made wines at the Reklaimed Vines Tasting Room in Huntingdon. Customers can also find adult beverage products from Defiant Distillery in Reklaimed Vines winery.
The in-house roasted coffees at the Standing Stone Coffee Company pour like rain and overfill your mug - figuratively. "When it Rains, it Pours" good coffee brews, teas and smoothies for all. Standing Stone specializes in not only coffee but also specialty food and drink menus that change according to the season. This coffee shop is a local favorite decorated with unique, artisan gifts available for purchase.
Downtown Joe is an ideal destination for visitors looking for deluxe drinks while also staying completely dry inside a vehicle. At this drive-thru coffee shop, the staff serve specialty coffees, craft teas, lemonades and delicious treats. Downtown Joe also offers monthly menus sprinkled with new arrivals of different tastes and flavors of drinks.
(Honorable mentions: Jenkie's Joint, Brookmere Winery & Vineyard Inn, Strickler's Ice, Bottled Water, and Beer, Marcocci Beer Distributor, Raystown Beverage)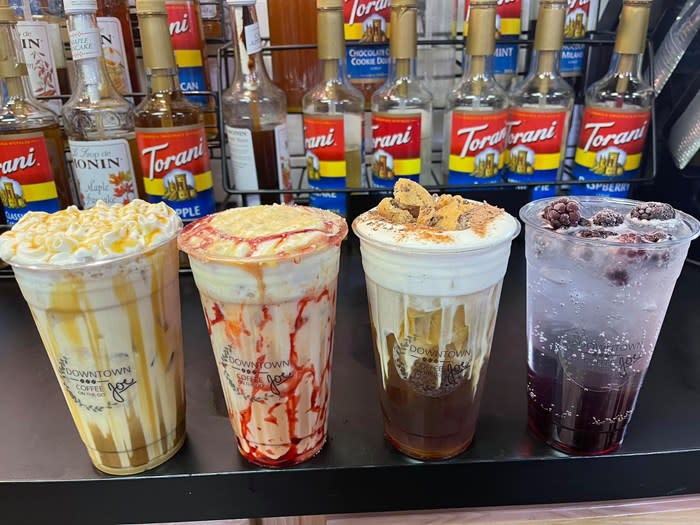 SHOPPING
Raystown Reflections Gift Shoppe
Rain or shine, guests of the Lake Raystown Region love the lake so much that they frequently return and seek memorabilia from their stay. The Raystown Reflections Gift Shoppe at the Raystown Lake Visitor Center has a variety of Raystown merchandise as well as handmade, local items in stock for first-time and returning visitors. On rainy days, visitors believe stopping by the gift shop is a superb way to "Set Fire to the Rain."
Thompson's Candle Company Gift Shop
Browsing warm candle scents is like a rainbow peeking through the clouds on a day of inclement weather. Thompson's Candle Company Gift Shop in downtown Huntingdon is drenched with handcrafted artisan candles that are super scented with long burn times. The shop is stocked with pet-friendly fragrances, seasonal scents, candle jars and wickless crumble wax melts to take home and keep the warm rainbow feeling going.
Four Diamonds Ranch Farm Store
Spending a day at Diana Dickson's Four Diamonds Ranch leaves visitors saying, "I Think I Like When It Rains." Not only does this farm have small baby goats to cuddle, but also Four Diamonds Ranch has a farm store that offers handcrafted goat's milk soaps, lotions, scrubs and local craft items. After scheduling with Dickson via phone call or email, customers have the opportunity to create their own personalized bath and body products to wash away remnants of dreary cloudy skies.
Twice Upon a Time
Twice Upon a Time is a popular resale consignment shop that overflows with second-hand products for everyone. This well-curated fashion recycling store includes home decor, housewares, small furniture, and in-style, gently used clothing. Visitors in the Lake Raystown Region love splashing around in numerous second-hand stores in the area.
(Honorable mentions: Station General Store, Rothrock Outfitters, Love IT, Flashbacks, Stitches & Stuff, Nature's Kēp, Mary's Bargains, The Marketplace)
Other destinations with limited or varying operating hours include: Terrace Mountain Alpacas, Hartslog Heritage Museum, The Playhouse at McConnellstown, Greenwood Furnace Visitors Center and Blacksmith Shop
The Lake Raystown Region features a range of indoor, rain-sheltered activities that keep visitors covered on those pesky rainy days. Whether caught in a downpour or feeling a light sprinkle, visitors are often glad to have supported and engaged with local businesses in Huntingdon County. After all, "Upon Us All, Upon Us All, a Little Rain Must Fall."