Escape, explore and keep your story interesting with a trip to the Raystown Lake Region. 
During a pandemic, finding vacation options and new and exciting activities to do may prove to be a challenge. Fortunately, here at the Raystown Lake Region of Pennsylvania, we say, "Challenge accepted!"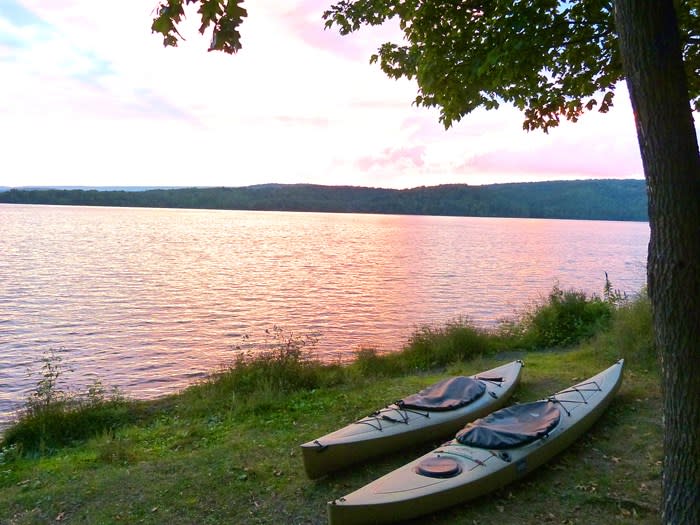 Social Distancing - We were built for this!
The Raystown Lake Region offers many options for you to stay and play, while maintaining a safe distance from others.
Exceptional placid water kayaking on our lakes and rivers, including two paddle-sport river launches in Jack's Narrows, giving convenient access to paddling in PA's deepest gorge (Jack's Narrows)(Arnold's Marine Boat Rentals)(Rothrock Outfitters Rentals) 
Hundreds of miles of hiking trails, including the 2019 Pennsylvania Trail of the Year: The Mid State Trail and the 2016 Trail of The Year: The Standing Stone Trail (Trails)
More than 135,000 acres of public land 
Golf courses (Golf) 
Caves, state parks and rails-to-trails opportunities (Caves, Lower Trail)
Seven Points Marina is the only place within PA where you can get a houseboat and live on Raystown Lake during your vacation. Most of the houseboats in the Seven Points Marina fleet come equipped with hot tubs and slides. The marina's rental fleet includes fishing boats, ski pontoon boats and 15 houseboats. (Seven Points Marina)
There are about 3,000 campsites to choose from plus many other types of social-distance appropriate accommodations ... luxurious vacation homes, secluded forest cabins, cozy B&Bs, well-appointed houseboats, etc. (Lodging) 
The Allegrippis Trails at Raystown Lake are ranked as some of the top single-track mountain bike trails in North America. (Allegrippis Trails) 
Lake Raystown Resort has many types of accommodations, a Marina Café, full-service marina and Angry Musky Outfitters.
Raystown Lake is the Freshwater Striped Bass Capital of the Northeast United States. The current Pennsylvania record for a freshwater striped bass is 53 pounds 12 ounces – caught at Raystown Lake. (Fishing) 
Huntingdon, PA is a stop on the Amtrak Pennsylvanian line, with roll on/off bike service now available.
Grab and go food options are available from many grocers and restaurants in the region. (Food)
Be sure to flip through our 60-page virtual Visitors Guide while you plan from home.  
Come see us soon! We've got space for you here.